Magheragall Parish Church
---
Sergeant John William Murphy Royal Air Force Volunteer Reserve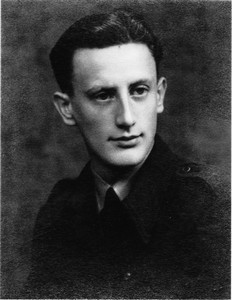 Family Background of Sergeant John William Murphy
John's father was John William and his mother was Eileen. His father was born on the 21st May 1887 and died 27th September 1966. He worked for a short period in Scotland and when he returned to Ulster he was employed as drayman by Arthur Guinness Brewery, he retired through ill health in 1938. Eileen Murphy (nee Hamilton) was born 29th April 1888 and died on the 7th July 1981. She came from the Shankill Road area of Belfast. She married John William at Trinity Church of Ireland Clifton Street Belfast in April 1912.
They brought up their family of seven children, three girls and four boys in Lowther Street Belfast where they all attended St Barnabus School Belfast. As they became old enough they left home to find work and become apprentices. The war caught up with them in 1941, the blitz drove the parents and youngest child out of Belfast into the country, finally ending up in Moneybroom Road, Magheragall where both parents died and were buried in Soldierstown. One of John's brothers served in the Navy and another in the Army.
Life Story of Sergeant John William Murphy 1922 to 1945
John William Murphy was born on the 31st October 1922 and died aged just 22 on the 3rd July 1945. He was born in Lowther Street Belfast; he attended St Barnabus School and maybe Mountcollier School. In order to become a member of the Boys Brigade he attended McCrory Memorial Presbyterian Church and was in No 41 BB. John was an apprentice fitter at James Mackie Engineers in 1938. He joined the Royal Air Force Volunteer Reserve in 1941 and became Sergeant John William Murphy 1083884. Eventually he was posted to Canada for further training. Sadly he was killed in a flying accident on July 3rd 1945 at Boundary Bay British Columbia and is buried in St John's Norway Cemetery Toronto.
Six months prior to his death in December 1944, John had married a Canadian girl called Georgena Saunders, they had no children. Georgena was from North Bay Ontario. In 1951 Georgena visited John's parents in Ireland and continued to write to them but when they themselves died contact with the family was lost. Georgena went on to remarry and settled in Canada.
The Search for Georgena
John's brother, Sam Murphy, had for many years wondered about Georgena and how she was faring in life. John had always been Sam's favourite brother. Sam felt that he may be able to help Georgena although he was unaware of what her circumstances might be, or indeed where she now lived, but when the government made changes to the War Widow Pensions it gave him the spur he needed to trace her.
After much detective work, piles of correspondence to and from many sources including the Rector and office Administrator of St John the Baptists Church in Norway Toronto, Sam finally had the information he needed just a year after he had started his quest and he was able to make contact with Georgena, now Mrs. Milligan, who lived in the United States and with great pleasure and a sense of achievement he was able to visit her with his wife Janet. The two of them filled in all the gaps and Georgena is now the recipient of a war widow's pension... for which she is extremely grateful.
Sam has sent her photographs of the war time commemorative plaque in Magheragall Parish Church and she is both touched and proud that John is remembered in this way.
On the 25th September 2004 Sam died, shortly after he completed this search. At the time of writing John is survived by one sibling, a sister, who lives in Australia.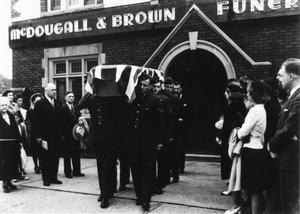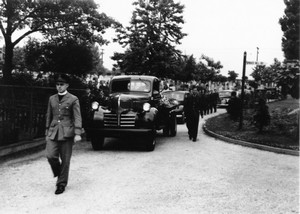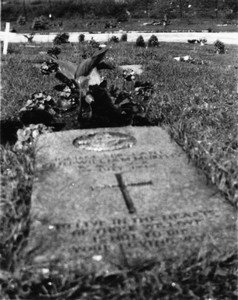 To Sam's widow Janet we express our sympathy and also our thanks for providing the photos of John, the information about John's life and in doing so completing the search Sam started. Posted 11th May 2006
---
Back